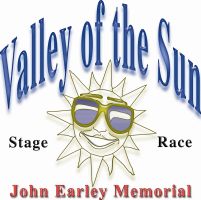 20th Annual John Earley Memorial
Valley of the Sun Stage Race
February 10-12, 2012
Permit # 2012-232
The Valley of the Sun bike race is a three-day event in which professional and amateur road racing cyclists of different categories compete for cash and prizes. A stage is held each day consisting of a time trial, a road race and a criterium. There are over 800 participants in 15 categories of professional and amateur riders, both men and women, ages 10 to over 60. The cyclists that have the lowest cumulative time from the three stages will win in their respective categories.
Please visit the Frequently Asked Questions for more information
Click here to view 2011 Race Photography by Zazoosh
Click here for the final 2011 GC RESULTS
Hello,
After reading the FAQ page and reading the 2011 race bible, if you still have questions regarding the 2012 VOS race please email [email protected] with your question. We try to put as much info out as possible and want all participants to have their question answered.
Thanks,
Brian Lemke
VOS Race Director