Community Services and Charity Cycling Events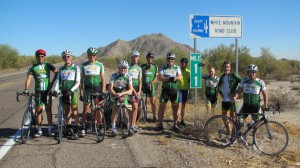 Team members donate their time and services to the community in a variety of ways.  Members find it personally rewarding to be able to help others by participating in these activities.  Many White Mountain Road Club members participate in various charity events including the MS150 which benefits the Multiple Scleroses Society and El Tour de Tucson which contributes to selected charities.  Since 1997 the club has been the official bike patrol for the M
S150 ride.
Adopt-a-Highway
White Mountain Road Club members are committed to pick up litter along a two-mile stretch of state highway at least two times a year.  This provides a clean environment that gives civic pride to the community, serves as a reminder not to litter and saves the taxpayers money.
Senior Olympic Cycling Promotion
The White Mountain Road Club members work with the city of Phoenix Parks and Recreation department to promote the Senior Olympics.  Since 1997 WMRC members have organized this event that allows seniors the opportunity to compete against their peers.  WMRC has developed a good relationship with all the participants of the event.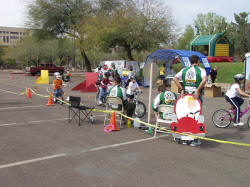 Bike Rodeos & Races
White Mountain Road Club members partner with the Safe Kids Coalition of Maricopa County to develop a Kids Bike Rodeo and Race as part of the Valley of the Sun Criterium in downtown Phoenix and as part of the Buckeye Criterium in Buckeye.  Part of the proceeds from these events are donated to the Safe Kids Coalition which is dedicated to the prevention of childhood injuries through community awareness and educational activities on bicycle helmet safety.
Police Officers from each departement conduct the bicycle rodeos while WMRC members assist.  These rodeos teach children proper bicycling safety.School VisitsLandis/Trek Team members along with the top US professional racers conduct school visits to educate children on cycling safety and to always wear a helmet.  Educating children about the fun and also safety of bike riding is a priority with White Mountain Road Club.