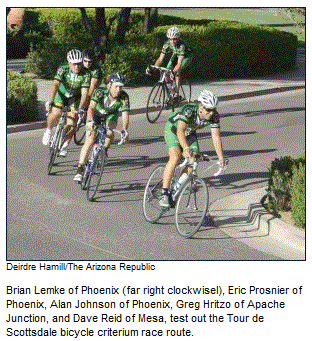 The idea to add a day of criterium racing to the north Scottsdale cycling scene came from Brian Lemke, a Cave Creek resident who rides with the Landis Cyclery-Trek team. Lemke saw a gap between the Tour de Scottsdale's Thursday night party and Sunday ride and came to organizers with his plan.
The criterium will be held on Saturday, October 2nd.
More than two thousand cyclists from around the Valley and around the nation are expected at the Scottsdale Cycling Festival this fall. For the first time, the popular 7th Annual 70-mile Tour de Scottsdale citizen's race that benefits the McDowell Sonoran Conservancy will be paired with a Criterium, adding an exciting competitive element for cyclists and spectators alike.
Register online at RacePlaceEvents.com. Online registration closes on Wednesday Sept. 29 at 11:59 p.m. (PST). Citizen cyclists must obtain one-day, $10 license. Late Registration is available at 7 a.m. on Saturday at the Expo; a $10 Late Fee applies to all entries received on or after Oct. 1.
http://www.azbrevet.com/ Dave Lehnen enjoys these rides and is a veteran at doing them. Contact him for 1st hand info.