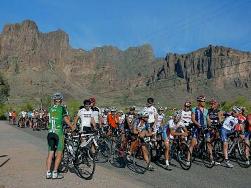 White Mountain Road Club presents a 11 race series on Tuesday nights racing with your friends. This will be a USAC sanctioned race series for cash prizes for all USAC racers. The "B"race will be for Women, juniors, Cat 5, and Cat 4 only. The "A" race will be for Cat 1-3, and anyone that thinks they can climb like a goat. Separate women's race for 3 or more women.
6/21 UPDATE: The permit for the 2010 Tortilla Flats Race Series has been revoked by ADOT (at the advice of the forest service). The last race of the series was effectively 6/15/10.
We will be replacing the Race Series with a TRAINING RIDE Series. Meeting at the Mining Camp Restaurant on Tuesdays on the same dates as the 2010 race series flyer. It will not be insured by USA cycling. Hope to see you there!

Start time is 5:30 PM (Except August which will be at 5:15PM)
May 18 & 25
June 1, 15, 22 & 29
July 13, 20 & 27
August 10 & 17
Check attachments below for Rider Release form and Results
NEW FOR 2010: Restrooms year round at the Mining Camp Restaurant/Lost Dutchmans Hideout. Please no cycling cleats indoors and thank them for allowing us to use their facilities.
Lost Dutchmans Hideout will have chicken sandwiches this year ($6) for those wanting to eat after the ride.
PLEASE PRINT, SIGN and BRING a copy of the rider release (attached below)


THE COURSE: A 39-mile total out and back course with 11 miles of really difficult climbing. There are lots of rollers and steep winding descents, very few flat areas, and most important, very few cars (usually less than 10 total). There is beautiful, smooth pavement, and gorgeous scenery. Vertical gain is 3500'.

THE RULES: All USCF rules apply. There is only one intersection at a distance of ¾ mile from the start. The groups will roll neutral to the intersection at highway 88 and turn right. The race can then go its own pace until it reaches the first one-way bridge. Entering the bridge with cars coming the opposite way is an automatic disqualification from the race. The same rules apply when you cross the next bridge before the climb to Tortilla Flats. Turn around at the "end of pavement" sign, just past the mile marker 220. If you are dropped long before the turn around, you can turn and jump in with the group as they pass you on the descent. If you choose this method you are ineligible to contest or help in the sprint. When you start the 5-mile descent there are 2 steep 90-degree left turns where you must use your brakes, or you will go over the side of the mountain into the cholla. When the groups finish they must yield to cars before turning left onto Nodak Rd. at mile 200. There is still a ¾ mile uphill to the finish line so there is no reason to attack into the left turn. Any time after the turn onto Nodak is okay. Finish line is at the Mining Camp Restaurant.
THE DIRECTIONS: Highway US 60 east or Brown Road east to Highway 88 east. Follow the highway toward Canyon Lake, but turn right on Nodak just before mile 200. Follow signs to the Mining Camp Restaurant at the base of the Superstition Mountain. Don't park in front of the big tree. It is reserved for registration. Please click here to view a detailed map for parking, registration, etc
THE PRIZES: $5 of each entry goes to the weekly cash prize for the top 3 places of each race. Cash will be paid 5 deep with 15 or more per field. Points series for each category: 5 for 1st, 1 for 5th. $ awards to top three in each series. "A" series: $50, $25, $15. "B" series: $30, $20, $10. Scoring will be based on 9 best results. Tie breaker to be total # of 1st places, then 2nd places, etc.
THE DETAILS: $10 entry for all riders per week, or $95 for the whole series of 11 races. If field size warrants, A and B races will start separately. The whole race will take about 2 hours. Bring 3 water bottles and spare inner tube, patch kit and pump. There is no follow vehicle, unless you supply one. USCF license required, 1-day license available to new racers. Helmets required. No aero-bars. Jersey must have sleeves. Keep your race number and pins for each week that you race of the series.
We are guests in the neighborhood. Please respect residents by assuring you are not blocking residential traffic (stay to the side of the road when warming up and staging). Do not congregate in such a way to impede any motor vehicles. Thank you for your consideration. We have been running this event for 10 years and do not want to give anyone any reason to complain and then have to shut it down. Please remember to leave the neighborhood in the same condition as before you arrived.
QUESTIONS: Call Dave Reid (480)-497-8832 evenings until 8pm or email [email protected]. See you there.
PLEASE PRINT, SIGN and BRING a copy of the rider release (attached below)
PREVIOUS WINNERS:
| | | |
| --- | --- | --- |
| YEAR | A RACE | B RACE |
| 2009 | Joe Susco | Bryce Cook |
| 2008 | Dan Vasichek | Keith Brodhagen |
| 2007 | Dave Reid | Dave Gay |
| 2006 | Scott Conover | Travis Waldren |
| 2005 | Greg Hritzo | Zach Titensor |